STAY IN OUR CAMPING AND MOBILE HOMES ON THE BEAUTIFUL ISLAND HVAR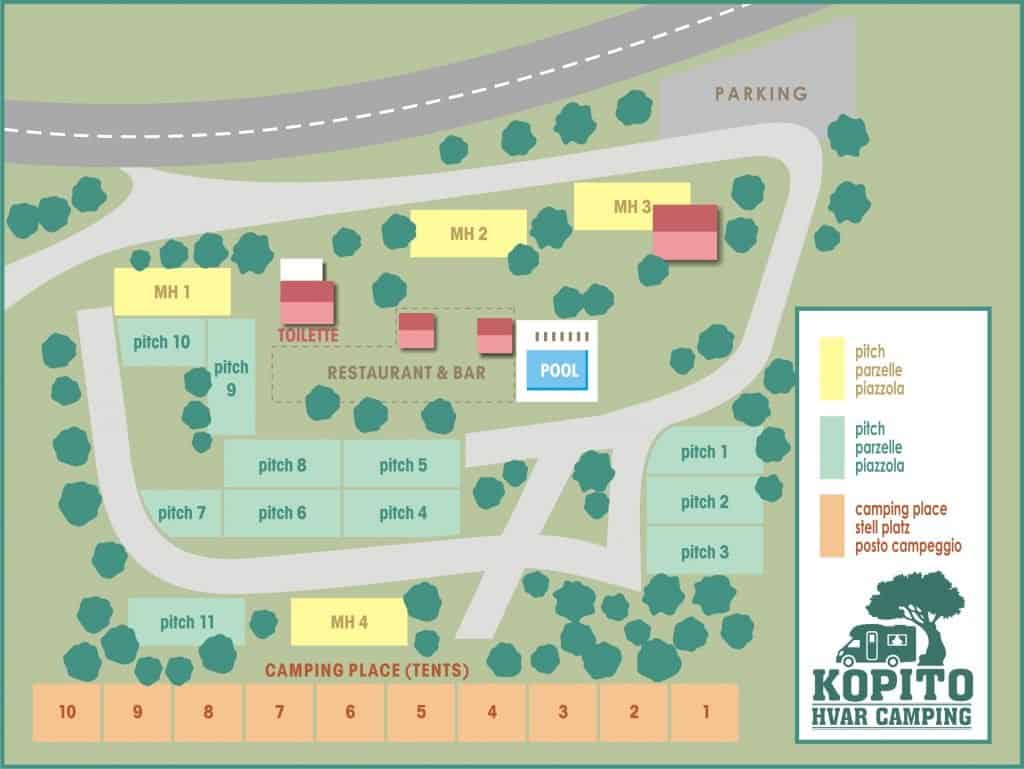 Camp is divided on two accommodation zones, one for the guests arriving with their own mobile home, camping trailers (caravan)‐PARCELS and other for guests arriving with tents‐ CAMPING PLACES.
For guests arriving without their own camping equipment, camp offers tent accommodation or camping house accommodation for 2‐4 persons.
Parcels are located in the central part of the Camp, covering the area of 100 square meter, equipped with electricity connection.
Camping places, up to 50 square meter size, equipped with electricity and water connections, including car parking space.
Mobile home, at the size of 32 square meter with covered up terrace. House consists of two bedrooms, one with a double bed and the other with two single beds, two bathrooms, fully equipped kitchen and living room area. All mobile homes have air conditioning.
Tents, for 2 or 4 persons, equipped with mattresses, bed linen, table with chairs and electricity connection.
In the central part of the camp, there is a freshwater swimming pool, aprox. 40 square meter size, offering sunbeds and sun chairs at it's side for sunbathing and relaxation.
Two sanitary points are located nearby camping plots. Functionaly designed and equipped for personal hygiene, laundry and dish washing.
Equipment: hot water showers, hot water sinks, toilettes. Additional area for hand‐ washing of the laundry and dishes, also chemical toilet and washing machine are also a part of this sanitary point.
City tax is 1,50 EUR per person/ per day
Stay in our camping and mobile homes in beautiful location right by the sea